Just Yoga Bukit Indah Studio
---
SCHEDULE
---
RATES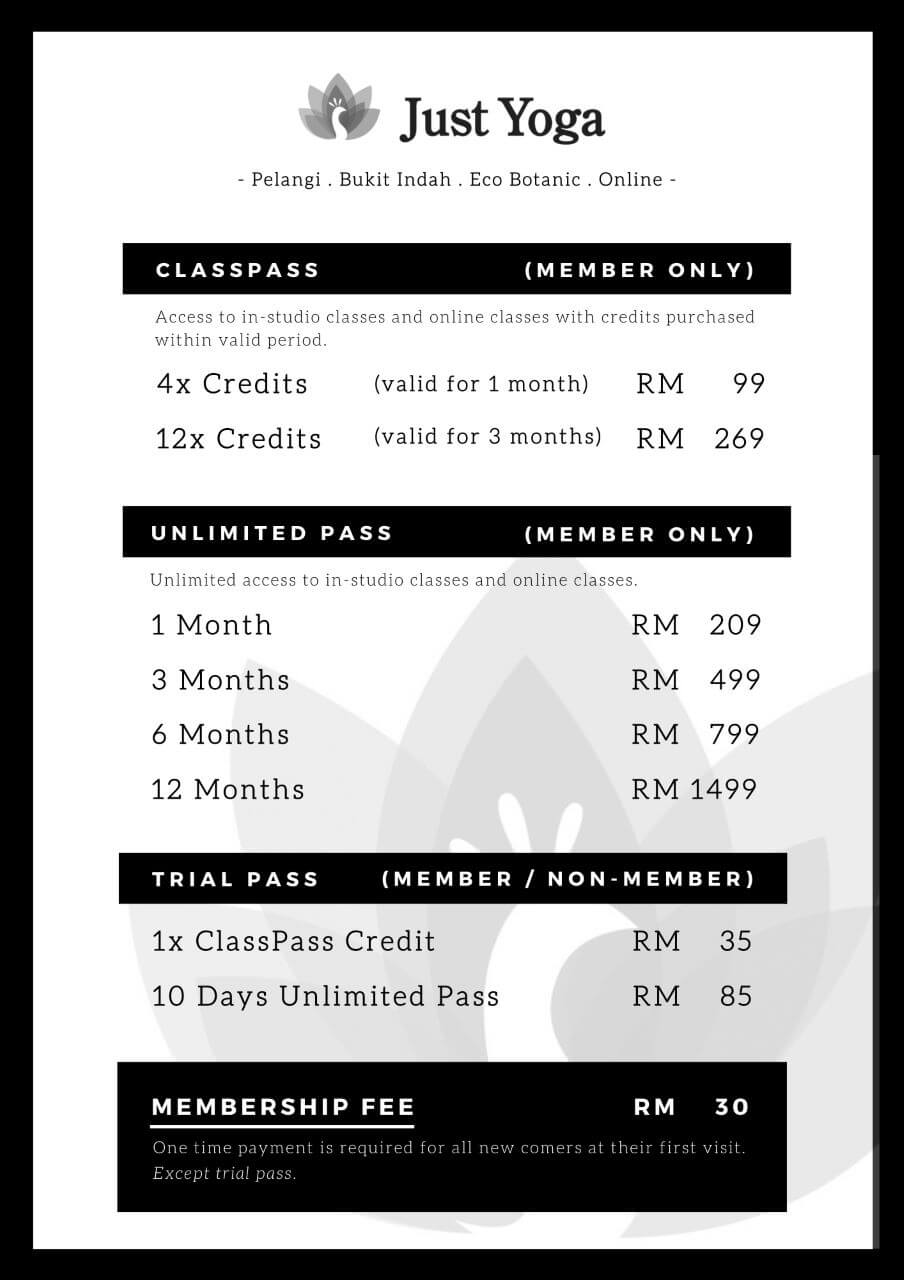 Reminder
Package is not transferable and not refundable. Validity date is not extendable.
Please consider and sign up wisely for the package to avoid wastage.
Things To Bring
[Hot Yoga / Yoga] Yoga Mat, Towel, Drinking Water, Stretchable Wear.
[Zumba] Sport Shoes with clean soles, Towel, Drinking Water, Exercise Wear.
Etiquette
Arrive early. Mind your personal hygiene. Minimize conversation. No mobile phones.
---
TIPS FOR NEWBIES
Start your class with "3C"!
Check out the latest class schedule from our website.
Choose a class according to your ability.
Call and book for your space up to 3 days in advance.
You may need to know...
Our class starts promptly. For new comers, please arrive 30 minutes early. 
Come to class hydrated. No heavy meal 3 hours before class.
Wear stretchy, close-fitting and light clothing that absorbs the sweat from your body. (Female is suggested to wear sport bra)
Yoga is done barefoot and sport shoes for ZUMBA.  
Bring a yoga mat, 2 medium/big towels and drinking water.
When you are in the classroom...
Keep your belongings aside. Only yoga mat, towels, water are allowed in the classroom.
Switch your mobile off or on silent. No phone talking in the classroom.
Please observe silence in the classroom. No chatting.
Abandon the competitive mind set. Yoga is absolutely non-competitive.
Respect yourself and others, try to stay for the whole class.